Remember the original Rock 'em Sock 'em Robots?
I just couldn't ignore this great game here on my new site. After all, it is prominent in my header picture. This is the actual photo of my original Robots that was used in the above logo montage:
My brother and I had so much fun with Rockem Sockem Robots! I guess we had too much fun because the "ropes" that go around the boxing ring are missing.
You can still buy this game, but it is now made cheaply by Mattel. The original was made by Marx and was much better. Just as I explained in the previous post, it isn't really Rock 'Em Sock 'Em Robots unless the sign on the front of the ring says "By Marx".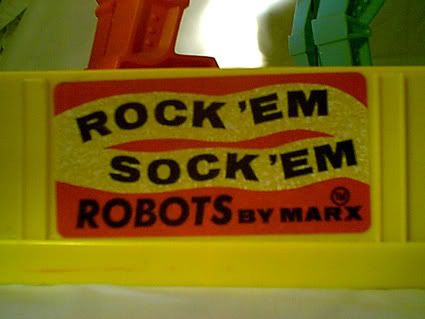 ************************************************
If you have read anything in this post that interests you or helped you bring back memories, I would love to hear from you. Please comment or send me an email.

I have many other toys that I can write about and show pictures of. Please comment or email if you have a favorite toy form the 60's, 70's, or 80's that you would like me to post about. If your favorite toy is before the 60's or after the 80's, I will still give it a shot. I have many of my Dad's old toys, and I know about the more recent ones too.

This blog is for you. It's for everyone. Together, lets talk about the Toys 2 Remember! Thanks!!