You can buy a white plastic Fisher Price Lil Snoopy at the toy store today, but remember the original wood Little Snoopy? The one I had wasn't even the original. It was from around 1965 and was catalogued as FP #693.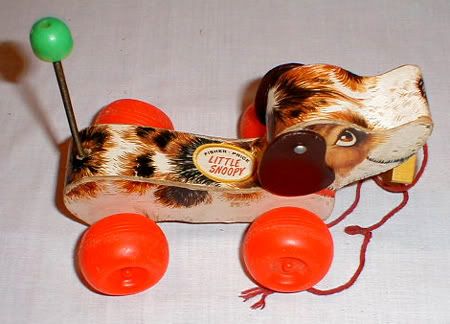 I loved that little pull toy dog! I still have it to this day. If you had one and don't still have it, Little Snoopy's are available on Ebay for CHEAP! I never understand why some vintage toys cost hundreds of dollars today, and others like 693 Little Snoopy, you can get for one dollar.
Maybe it is because they are so common. Just about everyone in the 1960's and 1970's had a little snoopy dog. Didn't you?
I like how you can pull it and it makes a clicking noise and the wheels wobble causing the dog to go happily up and down. His spring tail just wagged and wagged. He was a great dog. He followed me where ever I went! Here are some more pictures of him: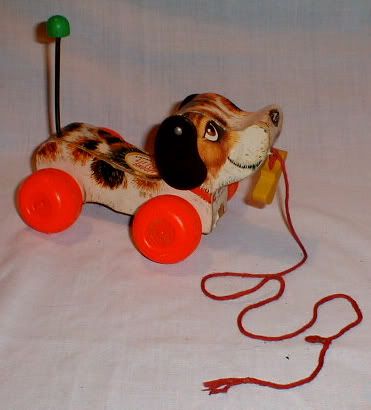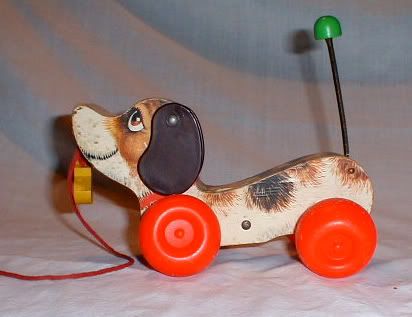 I wish Fisher Price still made simple toys like the wooden Lil Snoopy, Don't you?
************************************************
If you have read anything in this post that interests you or helped you bring back memories, I would love to hear from you. Please comment or send me an email.

I have many other toys that I can write about and show pictures of. Please comment or email if you have a favorite toy form the 60's, 70's, or 80's that you would like me to post about. If your favorite toy is before the 60's or after the 80's, I will still give it a shot. I have many of my Dad's old toys, and I know about the more recent ones too.

This blog is for you. It's for everyone. Together, lets talk about the Toys 2 Remember! Thanks!!
*************************************************