Remember Star Trek Mego!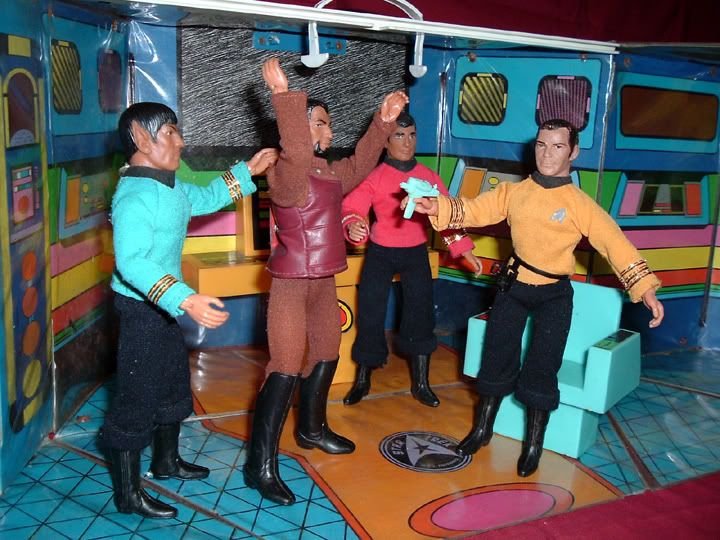 Remember the fun we had with Star Trek? My brother and I used to play Star Trek. We had plastic phasers, comunicators and tricorders. Most of the time my brother got to be Captain Kirk. I was usually Spock. We had fun with those play phasers but the aliens and villians we faced always had to be imaginary - Until Mego came out with the Star Trek action figures! Mego was already great at making super heroes, but now they had star trek! My brother got the U.S.S. Enterprise playset and the whole crew(except Lt. Uhura) ! We also had The Klingon, Neptunion, Cheron and Gorn for them to fight. Mego never made Sulu or Chekov or any generic crew members. We used our many Action Jackson figures as the extra crew that could be killed. The other aliens that Mego made were The Keeper, Romulan, Talos, Andorian and Mugato. I learned that from the Star Trek portion of the Mego Museum website. If you are a Mego fan, I'm sure you've seen the Mego Museum. If not, you need to check it out. They have many details and pictures for all of the Mego lines. It is undoubtedly the most comprehensive website about Mego. Mego made action figures for at least 10 years, but these 8" Star Trek figures were only manufactured between 1974 and 1976. After that they made the smaller "Star Trek The Motion Picture" figures that were about 4" tall. I had some of these that were mixed in with my Star Wars figures, but they were not as fun as the 8" toys. They also didn't have any playsets that I can recall. The Enterprise playset for the 8" figures was awsome! It had the bridge and a working transporter. You put the figure in, spun it real fast and when it stopped, - he was gone! Of course you could get him back by opening the "secret" door behind the transporter. It worked similar to how Batman's "to the batcave" batpole worked. The Batcave was also awsome, but that is material for another post. This toy blog is new for me. It is simply for me to recall all of the great toys I had as a kid, and show some pictures. Future posts may cover Star Wars toys, Space 1999, Battlestar Gallactica, Major Matt Mason and other space toys, Micronauts, Robots, Six Million Dollar Man, Shogun Warriors, Big Jim, G.I. Joe, Fisher Price toys, Adventure People, Weebles, Playskool square people, classic games like Rock'em Sock'em Robots and Shoot out in Space, vintage board games, Slot cars, Hot Wheels and Matchbox cars, Race Track sets and Lionel Train sets, Best of the West and other Marx toys, Atari games, handheld electronic games like Mattel Football and many more toys that I can't think of right now. Since this is new for me, I'm not sure what toy to highlight next. I'm not even sure if I have any readers yet. If you are reading this and are the least bit interested, PLEASE leave a comment and tell me what you would like to see next. Did anything on the above list interest you? What did you like from the 60's 70's or 80's that isn't on the above list? I want this blog to be fun.
************************************************
If you have read anything in this post that interests you or helped you bring back memories, I would love to hear from you. Please comment or send me an email.

I have many other toys that I can write about and show pictures of. Please comment or email if you have a favorite toy form the 60's, 70's, or 80's that you would like me to post about. If your favorite toy is before the 60's or after the 80's, I will still give it a shot. I have many of my Dad's old toys, and I know about the more recent ones too.

This blog is for you. It's for everyone. Together, lets talk about the Toys 2 Remember! Thanks!!
*************************************************