Probably the best Superhero toys EVER made were by MEGO in the 1970's. In one of my earlier posts, I talked about Star Trek Mego. Since I only had one picture on that post, here are a couple pictures of the Mego Star Trek Figures that survived my childhood:
Of course this is the Klingon, Captain Kirk, Spock, Scottie, and Dr. McCoy. The other bad guys were pretty cool too! Here is Neptunian and Cheron: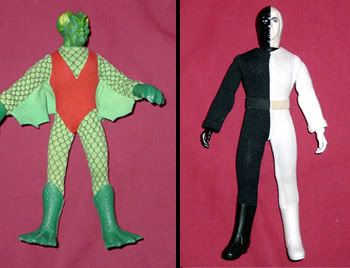 Hey wait a minute, this post is supposed to be about the Mego Super Heroes! Sorry, I always get sidetracked to Star Trek or Star Wars.
When it comes to Mego Superheroes, my brother and I spent countless hours playing with them. We had just about all of them (well actually, most of them were his). They were called "The World's Greatest Super-Heroes".
Most of them were Marvel, but the heroes made from D.C. Comics were probably the most popular. Among them were Superman, Aquaman, and Batman and Robin! We played with the ones we had so much that this is what most of them look like today! :(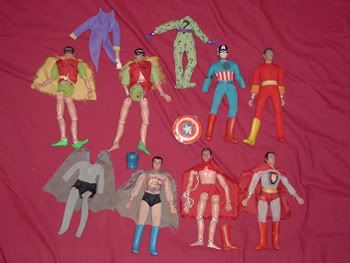 Many of them broke or were altered by our imagination. Remember how much fun they were? It wasn't just the figures either, the playsets were so cool! Our dad always called the figures "dolls" wich used to make my big brother so angry!
Anyway, we didn't destroy them all. These guys survived:
The Thing from the Fantastic Four and Aquaman
The Human Torch (also from the Fantastic Four) and Ironman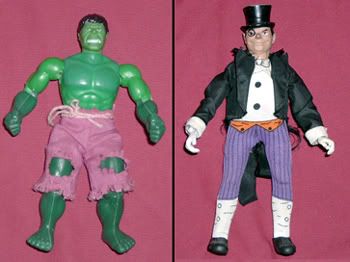 The Incredible Hulk and Batman's enemy, The Penguin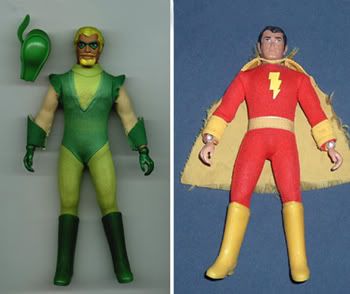 The Green Arrow and Shazzam
And now for our all time favorite:
Mego Mighty Thor with his hammer Mjolnir!
Thor was one of the later releases in 1976. I think he was the first to receive the newer body type, often referred to as Body type II. He had "real" hair, a removable metallic helmet and hammer, and rubber boots. All the other figures had plastic boots. Wait a minute, now I'm beginning to sound like a collector! As kids, we thought all of those new features made him the coolest.
I could go on and on but I need to bring this to a close. I will write a Mego Batman only post soon. Please comment below and let me know what your favorite Mego Super Hero was, or what you think I should post about next. I will try to be more frequent in my posting.
Thanks for remembering Mego with me!