Probably the best selling Mego Superhero group was Batman! I know that ALL of my friends had Batman, Robin, and at least one of their arch enemies. Those bad guys were pretty cool too. There was the Penguin, the Joker, and The Riddler. They also had a very funny looking Catwomen and Batgirl, but I didn't know anyone who owned them.
Batman and Robin went through several changes over the years. We had the original Batman with the removable cowl. That was great because we would actually change him to/from Bruce Wayne by using Action Jackson clothes. Maybe that is why our Batman fell apart over the years. We got another one later that had the cowl painted on. I think Robin had a removable mask as well in the beginning.
All of our Batman figures fell apart except Penguin. This is what our Batmans, Riddler and Joker look like now:
I posted a picture of our Penguin in the Last post about Mego Superheroes.
We also had a lot of fun with the Batcave playset, the Batmobile and the Batcopter. The only one left to show a photo of is the Batcopter:
I found some good pictures of the Bat mobile on Ebay from user Ringer 1808. He gave me permission to show them to you: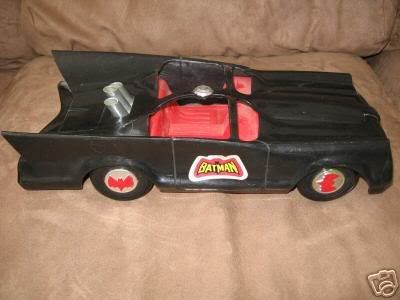 I love the fact that Robin is wearing a Superman costume and that Batman has lost his chest decal. That is the way most Mego Dolls ended up, isn't it?
As for the Bat Cave, I remember it to be lots of fun. When I look at it on internet sites like Mego Museum, it sure doesn't look as good as I remember. We also never had the BatCycle. Probably because we thought of that as belonging to Batgirl.
I finally figured out how to embed a youtube video, so I want to close this post with a Mego Batman commercial that shows all of what I have been writing about here.
*****************************************************
If you have read anything in this post that interests you or helped you bring back memories, I would love to hear from you. Please comment or send me an email.

I have many other toys that I can write about and show pictures of. Please comment or email if you have a favorite toy form the 60's, 70's, or 80's that you would like me to post about. If your favorite toy is before the 60's or after the 80's, I will still give it a shot. I have many of my Dad's old toys, and I know about the more recent ones too.

This blog is for you. It's for everyone. Together, lets talk about the Toys 2 Remember! Thanks!!
******************************************************
Now, does that bring back memories or what?
I hope you've enjoyed remembering Mego Batman with me.