While I was writing my last post about Shogun Warriors, I remembered that I had pictures of me and my brother from the 70's holding our new warriors. I searched my old childhood photos and could not find them. Instead I found this picture from Christmas 1974 of me opening up my new Playskool Familiar Places McDonalds play set.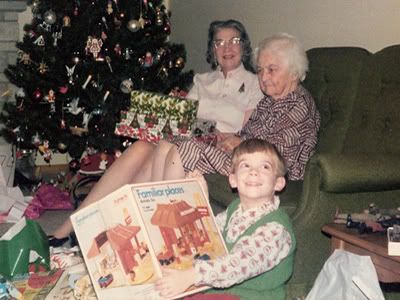 It is a pretty special picture to me because my wonderful late Great-Grandma and Great Aunt are behind me. I loved that McDonald's Playset. Do you remember it? Playskool had three or four sets that they called "Familiar Places". I wanted the Holiday Inn Familiar Places set but never got it. I have heard that there was a Texaco Station Familiar Places set but I've never seen it. Playskool made other sets for their square "Play Friends" (that came to be known as "Blockheads"), but they weren't called "Familiar Places". I had a great National Park set that had a bunch of animals. I also had a Fire Rescue Tower and I think I remember them making a horse or pony stable set. Of course Playskool was competing heavily with the popular Fisher-Price little people of which there were many sets. I have a lot of them to show you in future posts!
This post however, is supposed to be about the Playskool McDonald's, so here goes.
This was a great set with a large plastic building that looked just like the McDonald's buildings did at the time. It had a plastic mat with the parking lot and was marked where you were to place the building, sidewalk & sign piece and the playground. Many McDonald's Restaurants of the '70s had normal playgrounds like parks did, so of course this set had a working merry-go-round!
My favorite parts were inside the building. The dining room had a couple of tables and the kitchen area was great! It had the drink machine and burgers on one side, the fries and shake machine on the other, a cash register that went "ding" when you pressed it and a working tray return in the back.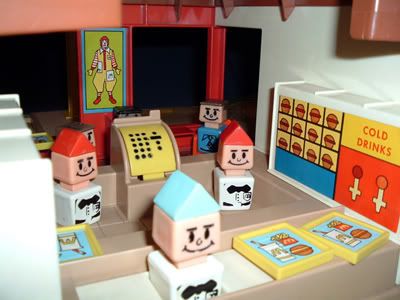 On one side of the outside of the building was the restrooms and on the other side was the tray return that led inside to the kitchen.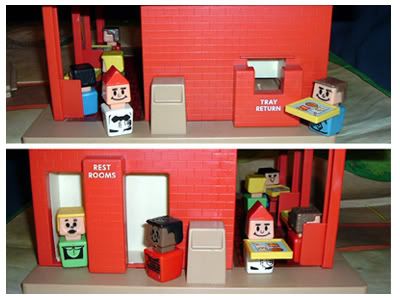 If you remember, the Playskool Play Friends suffered from the same ailment that the Fisher-Price little people did; NO HANDS! The best thing about the Playskool people being square was that they could still "hold" things! In the McDonald's set, they could hold the trays under their chins. In the National Park and camping sets, they could hold a backpack on. Look at the picture at the top of this post to see a man from the park set with the backpack.
All sets also came with cars that 4 people could ride in. When these pictures were taken, the cars were still at my Mom's in the toy box that the grandkids play with. There are still many of our old vintage toys in that toy box. Some are probably valuable, but that's okay. Toys should be played with. Besides, its because of my mom saving them that I am able to take pictures of all of these great Toys 2 Remember!
************************************************
If you have read anything in this post that interests you or helped you bring back memories, I would love to hear from you. Please comment or send me an email.

I have many other toys that I can write about and show pictures of. Please comment or email if you have a favorite toy form the 60's, 70's, or 80's that you would like me to post about. If your favorite toy is before the 60's or after the 80's, I will still give it a shot. I have many of my Dad's old toys, and I know about the more recent ones too.

This blog is for you. It's for everyone. Together, lets talk about the Toys 2 Remember! Thanks!!
*************************************************